Download our case study: Anderson Regional Health System Cuts AR Days by 50% Using MEDITECH's Revenue Cycle Solution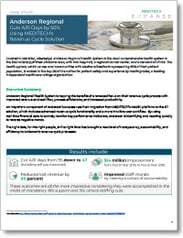 About: Anderson Regional Health System (Meridian, MS) is one of the largest health systems in the state, providing comprehensive care to the residents of East Central Mississippi and West Central Alabama. It consists of two hospitals, a clinic network, and the only cancer center in the region.
Challenge: During a transition in leadership, Anderson Regional analyzed its revenue cycle processes and identified areas for improvement. Key financial metrics showed that calculated A/R days were in excess of 95 days while there was also $7 million in credit balances across more than 7,000 patient accounts.
The hospital recognized that a lack of standard workflow processes was leading to inefficiencies in the revenue cycle department. Issues such as manual communication methods and overreliance on paper needed to be corrected in order to revamp Anderson's revenue cycle efforts.
Execution: An important component of Anderson's success was its migration from MEDITECH's MAGIC platform to Expanse. The health system was determined to maximize its use of all the tools the Revenue Cycle solution had to offer and ensure staff was adept at navigating the system.
Using the power of the Financial Status Desktop allowed the revenue cycle team to continuously monitor the organization's financial health and make more informed decisions relative to overall performance. By using real‐time financial data to actively monitor key performance indicators, Anderson quickly identified negative trends and became proactive in reversing them.
Results: Anderson is reaping the benefits of improved revenue processes, including better revenue and cash flow, process efficiencies, and increased productivity. The health system:
Cut A/R days by 50%.
Reduced lost revenue by 90%.
Improved revenue by $14 million in one fiscal year.
Achieved these outcomes while in the midst of mandatory 18% support and 15% clinical staffing cuts.
Quote: "Having the right tools for the right people at the right time means we can clearly set our performance standards for each team. MEDITECH's Revenue Cycle solution has made a huge difference for us in that regard."
Kevin Adams, CRCR, CMRP Revenue Cycle Director, Anderson Regional Health System