Download our case study: Avera Health Achieves 45% Mortality Rate Reduction With Sepsis Screening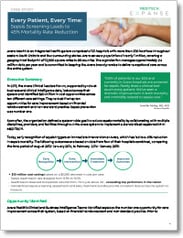 About: Avera Health (Sioux Falls, SD) is one of the largest health systems in the Midwest. With more than 300 care locations in five states, the organization serves a population of nearly 1 million people. This integrated healthcare system includes 37 hospitals and a state-of-the-art human molecular genetics laboratory, the Avera Institute for Human Genetics. In 2021, Avera Health was recognized by CHIME as a HealthCare's Most Wired organization, earning the highest status of Level 10.
Challenge: Supported by business and clinical intelligence data, Avera Health identified sepsis as the number one opportunity for care improvement and cost reduction across its system. Soon after, the organization defined a system‐wide goal to reduce sepsis mortality by collaborating with multiple disciplines, providers, and facilities throughout Avera Health to implement a standardized sepsis toolkit in MEDITECH.
A key focus of the project was ensuring that the screening and treatment protocol could be used universally across the system, ensuring the Avera brand promise of providing consistent, standardized care at all Avera hospitals.
Execution: To promote effective standards, Avera embedded the following elements into the nursing and physician workflow:
Nurse-driven screening protocols to identify sepsis patients early
Evidence-based physician order sets to provide immediate treatment
A centralized EHR sepsis panel, displaying sepsis-related data in flowsheet format
Tools to monitor compliance and effectiveness
By implementing these processes and raising sepsis awareness through its "Seeing Sepsis" campaign, Avera Health improved recognition and response time to sepsis cases, enabling immediate treatment and desirable outcomes.
Results: With its nurse‐driven sepsis screening assessments and physician order set bundles, Avera Health is using MEDITECH's integrated EHR to save lives by quickly identifying patients at risk for sepsis and initiating immediate, evidence‐ based diagnostics and treatments. As a result, the organization has managed to significantly streamline workflows, reduce costs, and improve patient outcomes.
Avera's new sepsis detection protocols have resulted in:
A 45% reduction in mortality rate due to sepsis screening.
$10 million in cost savings based on a $5,080 decrease in cost per case.
Readmission rate reduction from 12.9% to 10.3% for sepsis patients and observed-to-expected ratio reduction from .70 to just above .60 — exceeding top performers in the nation.
Quote: "Rarely does a clinical tool touch every patient, but 100% of our patients are now screened for sepsis. We've seen a dramatic improvement in both mortality and morbidity related to sepsis care."
Jennifer McKay, MD, Medical Information Officer, Avera Health