Download our Case Study: The Clatterbridge Cancer Centre NHS Foundation Trust Transforms Cancer Care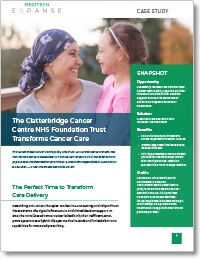 About: Located in northwestern England, The Clatterbridge Cancer Centre (CCC) is one of the leading cancer centers in the UK and has transformed cancer care delivery in the region. CCC provides nonsurgical oncology services, including pioneering chemotherapy, radiotherapy, and proton beam treatments, to approximately 27,000 patients per year.

Challenge: The facility previously used a hybrid system of paper medical records and limited electronic capabilities for notes and prescribing. Staff faced six main issues related to the hybrid approach, including cumbersome e-Prescribing, lack of clinical decision support, limited access to patient information, inconsistent documentation, prescription authorization delays, and regulatory compliance issues.
Execution: Leadership realized that CCC required a digital infrastructure and clinical decision support to meet the demands of delivering complex anti-cancer treatments. Once LIVE on a fully electronic system, oncology staff across 11 sites could access clinical information, place orders, and administer treatments more effectively. CCC followed MEDITECH's implementation guidelines by creating a comprehensive program of staff engagement, education, and training, outlined in prototyped clinical stages — each of which required clinical sign-off. By enabling the medical staff to experience the LIVE system in advance, outside of the pressure of their busy clinics, CCC migrated from its legacy systems to MEDITECH's EPR over a single weekend.
Results: CCC oncologists are now experiencing a more efficient process for managing patient records, placing orders, and documenting care, resulting in the following benefits:
Immediate access to patients' medical records & stronger clinical decision support for cancer therapies

System response time issues have been eliminated

20% higher influx of immunotherapy volume accommodated without additional staff

Ordering process for chemotherapy requiring multiple cycles reduced from a range of 15 to 90 steps, down to just 8.
Clatterbridge's experience demonstrates that integrating Oncology care into your EPR improves care team collaboration, leading to more efficient cancer care delivery. CCC continues to extract MEDITECH's rich functionality to help clinicians make better and more timely decisions. Ongoing technology projects will further streamline workflows and reduce clinical administrative time.
"Prescribing is much quicker, having access to one source for information is good, and being able to see nursing documentation is a positive. Also, we appreciate that referral documents are scanned in quite quickly now. We have confirmation of diagnosis before the letters are typed for a high proportion of patients, which, given the complexity of inclusion criteria for meds, helps us to ensure we're complying."
-Helen Flint, Senior Pharmacist, Clatterbridge Cancer Centre