Download our case study: Deborah Heart and Lung Center Optimizes Patient Throughput With MEDITECH Business and Clinical Analytics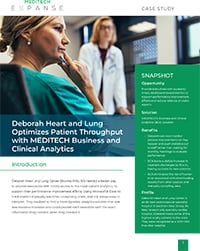 About: Located in the Delaware River Region, Deborah Heart and Lung Center (Browns Mills, NJ) is an 89-bed teaching hospital specializing in inpatient and outpatient services for heart, lung, and vascular care. It is a regional referral center, averaging 4,000 inpatient admissions annually.
Challenge: Deborah Heart and Lung Center's leaders were searching for a way to provide executives with timely access to current analytics to support their performance improvement efforts. Although they had used Microsoft® Excel to track metrics in the past, this process was time-consuming, and the results were not always easy to interpret.
Execution: Deborah leadership implemented MEDITECH's Business and Clinical Analytics solution to monitor the success of various initiatives and process improvement projects. The rollout of its first two personalized dashboards, the Surgical Intubation Times dashboard and the 10 a.m. Discharge dashboard, gave staff access to the data they needed to make these processes more patient-centric, decreasing instances of patients waiting unnecessarily.
Results: Using personalized dashboards created through MEDITECH's BCA solution, Deborah was able to:
Increase discharges before 10 a.m. sixfold.
Identify and address root causes for disparities in timeliness between physicians.
Back suggestions for new projects and results of performance improvement projects with solid evidence.
Eliminate the risk of human error associated with downloading reports from other sources and manually compiling data.
Quote: "The power of pushing 'the right data, to the right person, at the right place, at the right time, and in the right format' can be transformational. That's what MEDITECH's Business and Clinical Analytics solution does for us."
Rich Temple, Vice President/CIO, Deborah Heart and Lung Center