Download our case study: Frederick Health Hospital Reduces Sepsis Mortality Rate by 65% With MEDITECH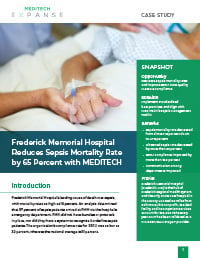 About: Frederick Health Hospital (Frederick, MD) is the hub of Frederick Health and the only acute care hospital in the county. Located 50 miles from Baltimore, this nonprofit, 233-bed facility and its outpatient services account for 285,000 visits every year. Frederick Health Hospital achieved HIMSS Stage 7 designation in 2017 and was recognized by CHIME as one of HealthCare's Most Wired organizations in 2021.
Challenge: Frederick Health Hospital's leading cause of death was sepsis, with mortality rates as high as 16%. An analysis determined that 97% of sepsis patients arrived at the hospital via the emergency department. The hospital did not have bundles or protocols in place, nor did it have a system to recognize borderline sepsis patients.
Execution: Recognizing the need for a comprehensive approach to sepsis care, hospital leadership designed a three-pronged strategy:
Form a multidisciplinary committee to establish best practices for sepsis screening, order set bundles, documentation, and chart review.
Improve sepsis awareness by changing the organizational culture at a multidisciplinary level.
Institute a corporate goal of reducing sepsis mortality and surpassing the core measure at a minimum of 80%.
Results: A strong, collaborative, and multidisciplinary approach enabled Frederick Health Hospital to decrease sepsis rates and improve core measure compliance while changing the organization's culture:
SEP-1 core measure compliance rates rose from 32% to 80%, but have reached as high as 91%. (The national average is 51%.)
The sepsis mortality rate decreased 65% from almost 16% down to 4.76%.
The hospital has transformed itself from a below-average performer to a recognized leader in the fight against sepsis.