Download our case study: Ontario Shores Centre for Mental Health Sciences Advances Patient Engagement With MEDITECH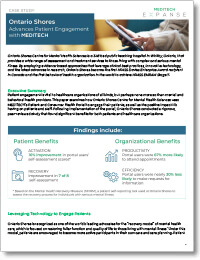 About: Ontario Shores Centre for Mental Health Sciences (Whitby, ON, Canada) is a 345-bed public teaching hospital that offers mental health assessment and treatment services, including interprofessional, recovery-focused programs. Ontario Shores is the first Canadian recipient of the HIMSS Davies Enterprise Award and HIMSS Stage 7 designation.
Challenge: Prior to Ontario Shores' EHR implementation, its patients had limited access to their own care data. Their health information requests were processed manually by the organization's health information management department, which could take weeks. Communication with caregivers between appointments was limited, and medical record information was not easily shareable with providers outside of Ontario Shores' network. Executives at Ontario Shores identified an opportunity to extend medical information access to patients, in support of maintaining care continuity and strengthening patient engagement.
Execution: During the implementation of MEDITECH's patient portal, Ontario Shores focused on four primary patient engagement goals:
Enhancing patient access to their care providers and their own care data
Supporting the paradigm shift toward service-user-driven care
Eliminating gaps in patient engagement and partnership between patients, families, and healthcare providers
Evolving existing practices and culture from a provider-centric model to a patient-provider partnership
Clinicians, patients, and other healthcare professionals at Ontario Shores were involved with the design, planning, and implementation of the portal from the start.
Results: After implementing the portal, Ontario Shores observed significant, measurable benefits for both patients and healthcare organizations:
Improvement in 7 out of 8 patient mental health recovery domains, including self-empowerment, basic functioning, and overall well-being
67% higher likelihood that portal users attend appointments
30% lower likelihood that portal users request information
16% improvement in patient self-assessment scores
Quote: "The patient portal is a valuable tool that empowers patients to be active participants in their own care. Clinicians are able to partner with patients to further support their recovery goals and stay connected to their progress."
Sanaz Riahi, MSN, RN, Senior Director, Professional Practice and Clinical Information, Ontario Shores Centre for Mental Health Sciences