Download our case study: Logan Health Uses Patient Registries to Advance Diabetes Management, Increase Cancer Screenings by 22%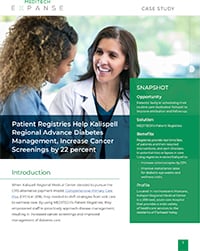 About: Located in northwestern Montana, Logan Health Regional Medical Center is a 288-bed, acute care hospital that provides a wide variety of healthcare services to the residents of Flathead Valley.
Challenge: As Logan Health transitioned to an alternative payment model, the organization needed to broaden its focus from patients who received care regularly to include patients who visited their physicians sporadically. To identify these unengaged patients, Logan Health needed a convenient means to determine everyone for whom it's responsible. The organization discovered it was relying solely on physician visits to meet all the care needs of patients and turned to MEDITECH's Patient Registries — a comprehensive population health tool — to help staff identify, stratify, and engage patient communities.
Execution: As Logan Health moved to the CPC+ reimbursement model, the organization determined that MEDITECH's Patient Registries could support its shift from fee for service to value-based care. By designing registry workflows so that all meaningful, documented patient data would flow directly to registries, clinicians could verify whether they were meeting care protocols, helping them to be more proactive in fixing poor compliance rates.
Results: Once the patient registries were established, they empowered Logan Health's clinicians to examine entire groups of patients, determine who they were accountable for, and decide on the appropriate interventions. Using registries enabled Logan Health to:
Increase colonoscopies by 22%.
Improve compliance rates for diabetic eye exams and wellness visits.
Have fewer patients leaving the ED without receiving timely follow-up from their PCP's office.
Thanks to its success with the wellness and diabetes registries, Logan Health is exploring a wide range of registry options to help manage organization-wide performance improvement efforts.
Quote: "MEDITECH's Patient Registries are a powerful tool for you to find out what's broken in your institution. Rather than spending months tracking down information in reports, the registries help uncover what's not easy to find."
John Tollerson, DO, Family Practice, Logan Health