Download our Case Study: Physicians at Halifax Health Go Mobile with MEDITECH Expanse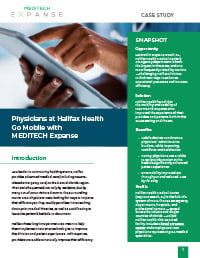 About: Halifax Health Medical Center (Daytona Beach, FL) is the hub of a system of more than 35 emergency departments, hospitals, and professional centers across central Florida — called Halifax Health. This 680-bed facility includes a level 2 trauma center and employs over 500 physicians representing 54 medical specialties.
Challenge: Halifax Health Medical Center's emergency department is both the largest in the state, and one most frequently visited by tourists. Its fast-paced ED and large out-of-town patient volumes challenged Halifax clinicians to find new ways to enhance operational processes and increase efficiency.
Execution: Halifax chose longtime partner MEDITECH to help them implement new mobile EHR technologies to improve the clinician and patient experiences. By combining process improvements with Expanse, providers were able to naturally improve their efficiency and reduce lengths of stay.
Results: Halifax Health found that the mobility and usability of MEDITECH's Expanse EHR improved the experience of their providers and patients both in the acute setting and the ED. Halifax Health clinicians achieved the following:
Mobile devices cut down on physicians' administrative burdens, while improving workflows and satisfaction
Having physicians use a tablet to review information at the bedside significantly enhanced patient experience
EHR mobility improved ED throughput and reduced lengths of stay by 1/2 a day.
Watch this video to learn how MEDITECH Expanse is helping increase physician productivity in Halifax Health's busy ED, supporting quick and efficient patient interactions.