Download our case study: RCCH HealthCare Partners Uses MEDITECH Toolkit and Surveillance Solution to Combat CAUTI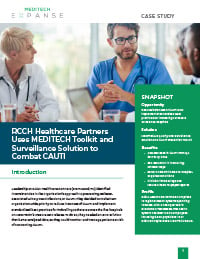 About: RCCH HealthCare Partners spans 12 states, with its headquarters located in Brentwood, TN. The organization comprises 18 regional health systems. Thirteen of RCCH's hospitals use MEDITECH's EHR.
Challenge: RCCH sought to eliminate inconsistencies in its approach to preventing catheter-associated urinary tract infections, and to implement uniform best practices for indwelling catheters across the five hospitals on MEDITECH's most recent release. To do so, RCCH needed an EHR solution that enabled clinicians to more effectively analyze the data they needed to monitor and manage patients who were at a higher risk of CAUTI.
Execution: RCCH turned to MEDITECH's Quality and Surveillance solution and CAUTI Prevention Toolkit for support in the early detection and prevention of CAUTI. Quality and Surveillance alerted clinicians and care teams to their next appropriate actions, and helped ensure that all indwelling catheters were placed in compliance with CDC best practices embedded within the toolkit.
Results: After implementing MEDITECH's Quality and Surveillance solution and CAUTI Prevention Toolkit, momentum from the CAUTI surveillance initiative led to the following improvements at RCCH:
45% decrease in CAUTI from Q4 2017 to Q1 2018
35% reduction in indwelling catheter days
Quote: "We have a continuous focus on patient safety and preventing harm. I am very pleased with the attention toward appropriate use of urinary catheters and the diligence to prevent hospital-acquired infections such as catheter-associated urinary tract infections. The MEDITECH Surveillance functionality enables nurses to leverage technology in patient safety efforts."
Dana Obos, Chief Quality Officer, VP Clinical Operations, RCCH HealthCare Partners