Download our case study: Union Hospital of Cecil County Improves Care Efficiency With Multiple Health Information Exchange Strategy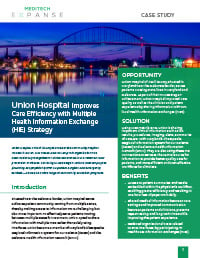 About: Union Hospital of Cecil County (Elkton, MD) is a full-service community hospital with 75 licensed beds. It serves Cecil County and neighboring areas of Delaware and Pennsylvania. A not-for-profit organization, Union Hospital achieved HIMSS Stage 7 designation in 2017.
Challenge: Situated in Maryland near the Delaware border, Union Hospital serves a diverse patient community from multiple states at a variety of care settings. Access to information is challenging but important to avoid gaps in care.
Execution: As part of its HIMSS Stage 7 achievement, Union Hospital improved care quality as well as the clinician and patient experience by sharing information with two local health information exchanges. Union became a member of Maryland's Chesapeake Regional Information System for our Patients, or CRISP for short, and the Delaware Health Information Network.
Results: Union Hospital enhanced its team communication and saved money by leveraging the state HIEs, giving clinicians better access to patient information and events occurring across multiple care settings and locations. Union Hospital clinicians can now:
Easily access clinical summaries, clinical health portals, and alerts embedded within their workflow.
Improve the patient experience with more coordinated care.
Decrease the time spent on paperwork by one hour per day.
Cut costs for patients and the hospital by eliminating redundant testing and reducing EHR interfaces.