Download our case study: Waypoint Centre for Mental Health Care Improves Transitions With SBAR Tool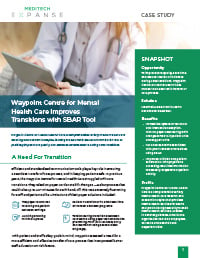 About: Waypoint Centre for Mental Health Care (Penetanguishene, ON, Canada) is a specialized mental health care research and academic hospital with 301 beds. Located almost 95 miles from Toronto, it provides an extensive range of inpatient and outpatient mental health services, including Ontario's only high secure forensic mental health program.
Challenge: In previous years, the Waypoint Centre for Mental Health Care struggled with care transitions. They relied on paper Kardex at shift changes — a slow process that could take up to 40+ minutes for each hand-off. This was extremely frustrating for staff and patients alike. Waypoint also experienced several incidents indicating a need for a more efficient transfer of care process and better staff education on risk factors.
Execution: Waypoint determined that an SBAR format would be the most effective workflow for overcoming its care transition challenges. Waypoint combined the information transfer at care transitions, the Kardex, and chit sheet into an electronic SBAR intervention. By collaborating with partners who had already experienced success with MEDITECH, its clinicians could close gaps related to patient transitions.
Results: Waypoint went LIVE with MEDITECH and SBAR using no paper during shift changes across 14 inpatient units, from day one. Staff was initially concerned about how long it would take to document online, but soon found the new electronic process took between 10-15 minutes, compared to the 40+ minutes for paper documentation. Other positive results from Waypoint's successful implementation include:
Significant reduction in the length of shift reports.
Improved patient satisfaction, since patients no longer have to wait for reports to be completed.
Improved clinician satisfaction.
Quote: "Clinicians, clinical information and IT managers, and other staff agreed MEDITECH had the mental health functional tools, support, and experience required to meet our unique needs. The ability to integrate and support various ministry and healthcare reporting requirements were also factors in the final decision."
Lorraine Smith, Vice President of Corporate Services, Waypoint Centre for Mental Health