Download our Case Study: Emanate Health Advances COVID-19 Contact Tracing with MEDITECH Professional Services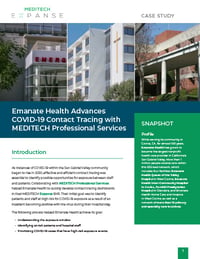 About

: Emanate Health includes four facilities: Emanate Health Queen of the Valley Hospital in West Covina, Emanate Health Inter-Community Hospital in Covina, Foothill Presbyterian Hospital in Glendora, and Emanate Health Home Care and Hospice in West Covina, as well as a network of more than 16 primary and specialty care locations. Over 1 million people receive care within this 625-bed network, which has grown to become the largest nonprofit health care provider in California's San Gabriel Valley over the last 100 years.
Challenge

: During the pandemic, preventing the spread of COVID-19 was among the most significant challenges facing healthcare providers. One of the keys to slowing down transmission was effective contact tracing to identify people who may have been exposed to an infected person. At the height of the pandemic, timing was crucial for implementing a reliable and efficient system to conduct contact tracing among staff and patients to minimize the exposure window while identifying anyone at risk after a potential exposure to COVID-19.
Execution

: Emanate Health collaborated with MEDITECH Professional Services to quickly develop contact tracing dashboards in their MEDITECH Expanse EHR. Their initial goal was to identify patients and staff at high risk for COVID-19 exposure as a result of an inpatient testing positive during their hospital stay. Achieving this goal required staff to clearly understand the exposure window, identify at-risk patients and hospital staff, and prioritize COVID-19 cases determined to have high-risk exposure events. Analyzing patient location history while integrating data from other vendor sources helped staff identify roommates who may have been exposed, employees who may be at high risk for exposure, and patients who are also employees.
Results: Emanate Health and MEDITECH Professional Services leveraged Business and Clinical Analytics dashboards within Expanse — integrating data from other vendor sources — to customize an automated contact tracing program. Contact tracing dashboards enabled staff to:
Identify high-risk exposure events based on the exposure window

Prioritize COVID-19 cases identified as coming from high-risk exposure events
Identify at-risk patients and staff to minimize the spread.
Emanate Health plans to incorporate BCA dashboards into daily operational use by Infection Control and Employee Health to perform similar contact tracing for other infectious diseases such as C. difficile and MRSA.
Quote: "We can identify not just the source of COVID-19 infection — who did this patient/staff member likely get the virus from — but also who did the patient/staff member potentially expose during their infectious period. I am not aware of any system in the market that can accomplish what we just did."
Loucine Kasparian
Corporate Director, Infection Control, Emanate Health