Download our case study: Frederick Health Aligns Workflows Across Care Settings With MEDITECH Professional Services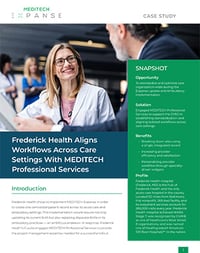 About: Frederick Health Hospital (Frederick, MD) is the hub of Frederick Health and the only acute care hospital in the county. Located 50 miles from Baltimore, this nonprofit, 269-bed facility and its outpatient services account for 285,000 visits every year. Frederick Health Hospital achieved HIMSS Stage 7 designation and was recognized by CHIME as one of Healthcare's Most Wired 8 organizations.
Challenge: Frederick Health implemented MEDITECH Expanse to create one centralized patient record across its acute care and ambulatory settings. Bringing all the care areas together meant it would be necessary to standardize and optimize care across the organization, especially among providers.
Execution: After implementing Expanse to replace disparate EHRs within its ambulatory practices, Frederick Health executive leadership appointed their first chief medical information officer to help establish standards and align workflows across care settings.
To help set the new CMIO up for success, Frederick Health expanded its partnership with MEDITECH Professional Services to include Physician Peak Performance Program CMIO Advisory Services for onboarding, mentoring, and physician-related support services.
Results: MEDITECH Professional Services supported Frederick Health's CMIO in establishing standardization and aligning tailored workflows across care settings. Together, they:
Eliminated silos by implementing a single, integrated record.

Increased provider efficiency and satisfaction.

Personalized provider workflow through specialty-driven widgets.
Quote: ❝MEDITECH Professional Services working with our IT team has provided a platform for great project communication for quick issue escalation and problem resolution.❞
Jackie Rice, Vice President and Chief Information Officer, Frederick Health