Download our white paper: Insights on the Evolution and Implications of Healthcare Workforce Challenges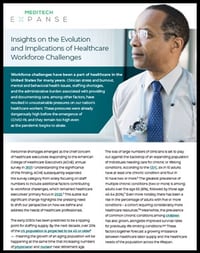 Healthcare has reached the tipping point: clinician stress and burnout, mental and behavioral health issues, staffing shortages, and administrative burdens have resulted in unsustainable pressures on our nation's healthcare workers.

How can healthcare leaders balance the needs of their overburdened staff and infrastructure with the growing needs of the patient community?

Download our white paper to learn more about how MEDITECH's solutions and strong partnerships are addressing critical success factors needed to reduce documentation burden and make work more meaningful.