Download our case study: King's Daughters Medical Center Gives Back 100+ Hours to Nurses With MEDITECH Expanse Patient Care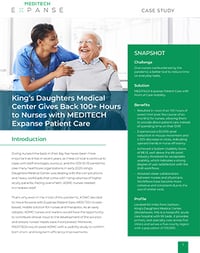 About: King's Daughters Medical Center (Brookhaven, MS) is a nonprofit, acute care hospital with 99 beds. Located 60 miles from Jackson, it offers primary and specialty care across five clinics. KDMC serves a five-county region with a population of 100,000.
Challenge: Giving nurses time back in their day has never been more important as it has in recent years, as these clinicians continue to cope with staff shortages, burnout, and the COVID-19 pandemic. Like many healthcare organizations in early 2020, KDMC was dealing with the complications and heavy workloads that come with rising volumes of higher acuity patients. Facing overwhelm, KDMC nurses needed immediate relief.
Execution: As part of its digital transformation strategy, KDMC wanted nurses to have an EHR experience consistent with their physician colleagues, who were already using MEDITECH Expanse. As an early adopter of MEDITECH's Expanse Patient Care solution, KDMC nurses and leaders had the opportunity to contribute clinical input to the development of the solution and ensure nurses' needs were incorporated. MEDITECH also assisted KDMC with a usability study to confirm both short- and long-term efficiency improvements.
Results: Upon go-LIVE, Expanse Patient Care provided immediate results for nurses, improving workflows and giving them easy access to important information. While KDMC staff and leaders could see the benefits of Expanse Patient Care firsthand, the usability study collected quantitative data proving the solution's effectiveness, such as:
More than 100 hours of saved time (over the course of six months) for nurses, allowing them to focus on direct patient care instead of spending time on their EHR.

A 60,000-pixel reduction in mouse movement and a 33% decrease in clicks, indicating upward trends in nurse efficiency.
A System Usability Score of 88.13, well above the 68-point industry threshold for acceptable usability, which indicates a strong degree of user satisfaction with the EHR workflows.
Closer collaboration between nurses and physicians. Workflows have become more cohesive and consistent due to the use of similar tools.
Quote: "The thing I love the most about Expanse Patient Care is that when you open the patient's chart, there is so much information right in front of you and if you need more, you can click on it from the first page and it will take you directly to what you need."
Brianna Errington, RN, King's Daughters Medical Center