Download our case study: Major Health Partners Sees 30% Time Savings on Home Medication Verification in the ED With Expanse Patient Care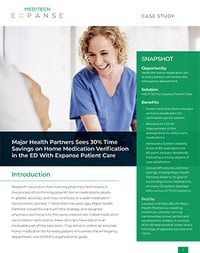 About: Major Health Partners (Shelbyville, IN) is a leading healthcare provider serving communities across southeastern Indiana. It consists of an 89-bed medical center and a full range of specialty services and clinics.
Challenge: After bringing MEDITECH's Expanse EHR LIVE in 2019, MHP leaders seized the opportunity to become an early adopter of Expanse Patient Care. As a longtime collaborative partner with MEDITECH, MHP was eager to improve its clinicians' workflow efficiencies while helping to shape the new web-based nursing and therapy solution.
Execution: MHP's emergency department uses medication reconciliation technicians to collect patients' home medication lists. These clinicians were among the first staff to use Expanse Patient Care. Anecdotal evidence supported time savings and high user satisfaction, but MHP and MEDITECH wanted to measure the workflow's effectiveness in a System Usability Study.
Results: Findings from the Expanse Patient Care usability study showed significant time savings and overall process improvements as well as a high rate of user satisfaction. Expanse Patient Care helped MHP's medication reconciliation technicians to:
Save more than three minutes on home medication list verification per ED patient.
Improve the average time to verify home medications by 29.4%.
Gain efficiencies and time savings that move the healthcare organization closer to its goal of reconciling home medications on every ED patient.
Expanse Patient Care achieved a System Usability Score of 89 (well above the 68-point industry threshold), indicating a strong degree of user satisfaction.
Quote: "Now we're all using the same patient chart, locating information from the same source, and directing that patient's care more effectively across the continuum. But we won't stop here. We're always looking at ways to improve, and plan to build on Expanse's capabilities throughout MHP."
Sara Lewis, RN
Clinical Informatics Specialist
Major Health Partners