Download our Case Study: NMC Health Decreases Antibiotic Use Through MEDITECH's Antimicrobial Stewardship Toolkit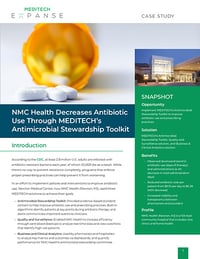 About: NMC Health (Newton, KS) is a 103-bed community hospital that includes nine clinics and home health.
Challenge: Like most organizations, NMC Health prioritized antimicrobial stewardship. To help overcome their challenges, NMC Health implemented the CDC Core Elements of Hospital Antibiotic Stewardship Program for guidance. However, they still had issues due to convoluted processes, and too much antibiotic use led to increased costs.
Execution: NMC Health's director of Health Informatics turned to MEDITECH, specifically inquiring about the Antimicrobial Stewardship Toolkit. NMC Health had confidence as an early adopter that the toolkit, which is aligned with the CDC's Core Elements and designed with Expanse technology, would address this organizational priority and help them achieve their goals. NMC Health staff used the toolkit's advanced clinical decision support and guidance to align best practice workflows in Expanse. This improved collaboration between pharmacists and physicians, as the workflows centralized information and made it easier to document and review data.
NMC Health also leveraged MEDITECH's Surveillance solution to increase efficiency, using centralized, statistical desktops to analyze real-time data and view watchlists that identify patients who qualify for one or more surveillance profiles.
Results: NMC Health is employing Antimicrobial Use and Resistance Reporting and Antibiotic Cost Reporting to analyze key metrics and positive outcomes since their toolkit implementation. These pre-go-LIVE vs. post go-LIVE improvements include:
4 percent decrease in total administration days, representing a downward trend in antibiotic use (days of therapy)
30 percent decrease in cost per patient (per day) and total costs, gathered using MEDITECH's Business and Clinical Analytics (BCA) solution.
Quote: "I enjoyed the early adopter process and working with MEDITECH. Working side by side to ensure that workflows will meet our end-users' needs, and then seeing our recommendations being used by other facilities was a great feeling."
Kelly Lippold, Director of Health Informatics, NMC Health