Download our case study: NMC Health Decreases Antibiotic Use Through MEDITECH's Antimicrobial Stewardship Toolkit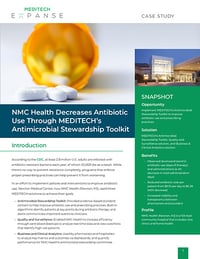 About: NMC Health consists of a 103-bed, not-for-profit medical center and 10 clinics. Located in Newton, KS, the health system serves Harvey County and the surrounding area.
Challenge: According to the CDC, at least 2.8 million U.S. adults are infected with antibiotic-resistant bacteria each year. NMC Health prioritized antimicrobial stewardship, but it had issues with convoluted processes, and too much antibiotic use led to increased costs. In NMC Health's previous workflow, pharmacists accessed two separate vendor systems to monitor and review medication orders. Multiple clicks were required to view results, and documentation was available to pharmacists but inaccessible to hospitalists. This became an inefficient process and often required extensive manual cleanup.
Execution: NMC Health set goals to reduce the trend of antimicrobial use and identify antibiotic costs per patient day. The health system implemented MEDITECH's evidence-based Antimicrobial Stewardship Toolkit, using the toolkit's advanced clinical decision support and guidance to align best practice workflows in Expanse. This improved collaboration between pharmacists and physicians, as the workflows centralized information and made it easier to document and review data.
Results: NMC Health is employing Antimicrobial Use and Resistance Reporting and Antibiotic Cost Reporting to analyze key metrics and positive outcomes since its toolkit implementation. These pre-go-LIVE vs. post-go-LIVE improvements include a:
4% decrease in total administration days, representing a downward trend in antibiotic use (days of therapy).
30% decrease in cost per patient (per day) and total costs, gathered using MEDITECH's Business and Clinical Analytics solution.
Quote: "It was quite a change in our process and I was a little worried that I might have to push the staff to use the system. But because it streamlined our workflow significantly, there was immediate adoption by the staff."
Allen Graber, Director of Pharmacy, NMC Health