Download our case study: North Country Healthcare Implements MEDITECH Expanse Surgical Services in Three Critical Access Hospitals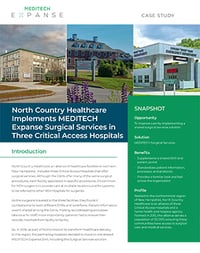 About: Nestled in the northernmost region of New Hampshire, North Country Healthcare is an alliance of three Critical Access Hospitals and a home health and hospice agency. Formed in 2015, the alliance serves a population of 30,000, ensuring these communities have access to surgical care and medical services.
Challenge: In 2018, as part of its mission to transform healthcare delivery to the region, NCH moved its three partnering hospitals to one shared MEDITECH Expanse EHR, including the Surgical Services solution. NCH's Governance Committee knew that standardizing processes for three hospitals of different sizes, with their own specialties and unique cultures, would involve give-and-take.
Execution: Conforming to one standard often required compromise, but the committee agreed early on that streamlining the documentation process was a primary goal. Standardized processes streamlined the workflow for surgical staff and ensured consistency – in both processes and patient information – among the three hospitals.
Results: Streamlined workflow gives surgical staff more time to focus on other responsibilities. Physicians and nurses feel they can travel to any of the three hospitals and know exactly what to expect. By sharing records across the organization, information is consistent – a factor that not only saves providers and patients time but improves patient safety. Transitioning to virtual preadmission testing calls has also reduced the burden on patients, who no longer need to travel for preoperative visits.
Quote: "The MEDITECH Expanse EHR is truly interactive and connects all North Country Healthcare facilities. Providers have a much better understanding of their patients' overall health, while all patients can view their records, manage their care, and interact with their clinicians regularly through just one secure patient portal — with no need to juggle multiple usernames and passwords."
Darrell Bodnar
Chief Information Officer
North Country Healthcare