Download our Case Study: Princeton Community Hospital Improves Response Time and Physician Efficiency with MEDITECH Expanse and Teknicor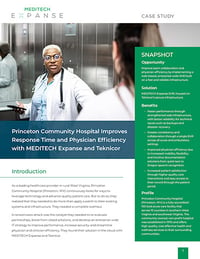 About: Princeton Community Hospital (Princeton, WV) is a fully-accredited 203-bed acute care facility that serves 10 counties in southern West Virginia and southwest Virginia. The community-owned, non-profit hospital was established in 1970 and offers high quality, cost-effective health and wellness services to their surrounding communities.
Challenge: Princeton's previous EHR approach was disjointed with too many disparate systems, slow response times, and poor usability. With ambitions of extending their reach by acquiring new sites, Princeton knew they could not continue forward in their current state. They needed a more dependable solution to ensure their EHR remained secure and available 24/7, and that their clinicians could access patient records quickly, efficiently, and collaboratively across the continuum.
Execution: Princeton brought in Teknicor — a leading provider of data center infrastructure, protection, and cloud solutions — to provide them with the scalable, high performance solution they needed to support Expanse, along with the flexibility to expand to new facilities in the future.
Addressing hardware infrastructure was only half of the equation. Princeton's decision to move to Expanse came after researching other EHR vendors, and realizing that the mobility, user-centered workflow, and integration of Expanse was what they needed to advance patient care across all of their facilities. While they were already familiar with MEDITECH in the hospital setting, Expanse empowered them to replace multiple disparate practice solutions and develop one patient record across all care settings.
Results: By centralizing their strategy with MEDITECH Expanse and switching to Teknicor for their hardware infrastructure, Princeton realized faster system performance, greater accessibility to shared records, and increased mobility. Benefits included:
Greater reliability and response times for technical issues such as backups and disaster recovery.
The scalability to extend services to other physician offices and service lines.
Improved physician efficiency and satisfaction through their mobile approach and ability to personalize the solution to physician needs.
More meaningful patient engagement by using shared records across their care settings and reviewing these records with patients in the exam room.
Quote: "You can customize the system so well, just like you do your smartphone. You can make it yours."
Nancy Lohuis, MD, Physician Champion, Princeton Community Hospital