Download our case study: The Rotherham NHS Foundation Trust Improves A&E Integration and Interoperability With MEDITECH's EPR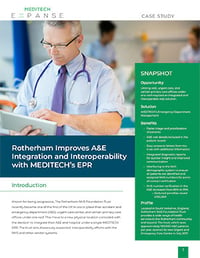 About
: Located in South Yorkshire, England, The Rotherham NHS Foundation Trust provides a wide range of health services to the Rotherham community and beyond. The trust, which sees approximately 100,000 A&E patients per year, opened its Urgent and Emergency Care Centre in July 2017.
Challenge: For The Rotherham NHS Foundation Trust, following the NHS Five Year Forward View and achieving the nationwide goal of greater patient engagement came in the form of opening its new Urgent and Emergency Care Centre. But Rotherham overcame a series of challenges to become successful:
Construction of the new emergency care center took 18 months. During that time, clinical leaders and IT were forced to design workflows for both of their temporary facilities, which were not suited for A&E, and their new building, which was still under construction.
Although many of Rotherham's systems did not "talk" with one another, its GP system in particular struggled with interoperability due to a lack of integration between hospital, urgent care, and A&E systems.
Working in-house with clinicians from various disciplines and with different levels of software experience resulted in opposing viewpoints and initial resistance to change.
Execution: To help drive this project, Rotherham selected MEDITECH's Emergency Department Management solution for its inherent integration with the trust's MEDITECH EPR and its proven track record for interoperability. Rotherham had full backing from informatics, as the team already knew how to run MEDITECH, putting them one step ahead to support implementation in the A&E.
Results: After the MEDITECH implementation, Rotherham's patients gained one source of truth for hospital and A&E care. Rotherham experienced automation benefits for both the trust and the A&E:
Through interoperability with the NHS Personal Demographics Service, Rotherham was the first trust to link its records to the PDS, increasing NHS identification number verification from 85% to 99%. Penalty reductions for missing or unmatched numbers alone resulted in a savings of £153,300.
When patients are admitted from the A&E, hospital clinicians can review A&E visit details, resulting in smoother care transitions. The trust improved revenue by £14 million in one fiscal year.
Rotherham's A&E now has access to integrated lab and radiology reports. They can send electronic requests directly to hospital departments for processing and no longer have to wait for faxed or paper results. This provides for quicker insights, shorter wait times, and improved internal communications.
Quote: "It is so valuable to have A&E information in one patient record. We never had that before. Things are better with MEDITECH and we've gained a lot. It's good for patients and good for care."
Laura Mumby, Head of EPR, The Rotherham NHS Foundation Trust