Download our case study: St. Bernards Healthcare Lowers SIR With CLABSI Prevention Processes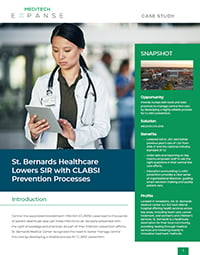 About: St. Bernards Medical Center (Jonesboro, AR) is a 440-bed regional referral hospital for Northeast Arkansas and Southeast Missouri. It has the only NICU in eastern Arkansas and the only Level III Trauma Center in the northeastern part of the state. The medical center is the flagship of St. Bernards Healthcare, a four-hospital network.
Challenge: St. Bernards' initial evaluations showed its CLABSI rate was 1.551 from 2016 – 2017, well above the national industry standard of 1.0. Its previous campaigns to centralize CLABSI improvement efforts were sporadic and noninclusive. St. Bernards saw the need to bundle protocols to fit organizational needs and specific goals.
Execution: St. Bernards created a Highly Reliable Organizational Plan, or HIRO, package that would facilitate the organization of policies, educational materials, performance reports, and MEDITECH documentation related to central lines. When developing the HIRO package, St. Bernards built specific sections of it into MEDITECH's EHR for performance tracking. Its primary objective was to create a reliable process for decreasing central line infections, with one source of truth for all information.
Results: Following a consistent organizational philosophy empowered St. Bernards to create a highly reliable process for decreasing central line infections. The organization's most recent standardized infection ratio, as of April 2020, is .241. Thanks to its efforts, St. Bernards accomplished its goal of lowering the SIR below the 1.0 national standard. Here is a full timeline of St. Bernards' SIR improvements:
FY Oct. 2016 – 2017 SIR of 1.551
FY Oct. 2017 – 2018 SIR of 1.03
HIRO launched in Nov. 2018
FY Oct. 2018 – 2019 SIR of 0.257
Quote: "Examining this process closely helped us to more clearly connect daily work and documentation to tangible outcomes. The EHR became a tool we optimized to hardwire compliance and make the 'right thing to do' more prominent and reportable."
Kasey Holder, MD, Vice President of Medical Affairs, St. Bernards Healthcare