Download our Case Study: St. Bernards Healthcare Lowers SIR with CLABSI Prevention Processes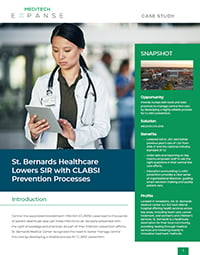 About: Located in Jonesboro, AR, St. Bernards Medical Center is a 353-bed referral hospital offering health services across key areas, including heart care, cancer treatment, and women's and children's services. St. Bernards is a healthcare destination for their local community, providing healing through medical services and investing heavily in innovative treatment methods.
Challenge: St. Bernards' initial evaluations showed their CLABSI rate was 1.551 from 2016 – 17, well above the national industry standard of 1.0. St. Bernards' previous campaigns to centralize CLABSI improvement efforts were sporadic and noninclusive. They saw the need to bundle protocols to fit organizational needs and specific goals.
Execution: St. Bernards created a HIRO package (Highly Reliable Organizational Plan) that would facilitate the organization of policies, educational materials, performance reports, and MEDITECH documentation related to central lines. When developing the HIRO package, St. Bernards built specific sections of it into MEDITECH's EHR for performance tracking. Their primary objective was to create a reliable process for decreasing central line infections, with one source of truth for all information.
Results: Thanks to their efforts, St. Bernards accomplished their goal of lowering the SIR below the 1.0 national standard. The organization's most recent SIR, as of April 2020, was .241 after launching the HIRO package in November 2018. Following a consistent organizational philosophy empowered St. Bernards to create a highly reliable process for decreasing central line infections.