Download our case study: The Valley Hospital Uses MEDITECH's Surveillance to Help Clinicians Identify and Prevent Infections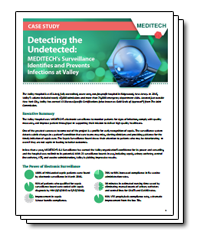 About: Located 26 miles from New York City, The Valley Hospital (Ridgewood, NJ) is an acute care, not-for-profit hospital serving approximately 440,000 people in the Bergen County area. It is part of Valley Health System, which was recognized by CHIME as one of HealthCare's Most Wired organizations in 2021.
Challenge: Like most healthcare organizations, The Valley Hospital had always struggled with early identification of sepsis, both in the ED and on inpatient floors. Motivated by the Institute for Healthcare Improvement's 100,000 Lives Campaign, Valley's leadership assigned advanced practice nurses and quality assessment staff to track specific conditions and evaluate patients.
When Valley moved forward with MEDITECH's EHR, the hospital's leadership team recognized the potential for a new electronic surveillance tool in helping clinicians with the early detection of sepsis and accepted the opportunity to be an early adopter.
Execution: Participating in agile development and proper implementation processes enabled Valley to collaborate with MEDITECH on a data monitoring system, which simultaneously analyzes clinical and demographic data from throughout the EHR. Using rule logic grounded in evidence-based medicine, the surveillance system analyzes data for subtle changes in a patient's condition that care teams may miss, notifying clinicians and providing guidance for the timely initiation of sepsis care.
Results: MEDITECH's Surveillance solution quickly earned the organization's confidence for its power and versatility, and the hospital sees no limit in its potential. With 23 surveillance boards in use, Valley is yielding impressive results:
100% of HIM-coded septic patients were found by electronic surveillance in March 2016.
93% of patients who qualified for the sepsis surveillance board were coded with the sepsis diagnosis by HIM.
Flu vaccine administration compliance increased from 78% to 98%.
30 minutes in estimated nursing time was saved by eliminating manual counts of urinary catheters and central lines for CAUTI and CLABSI rates.
VTE prophylaxis compliance rose to 93%, a dramatic improvement from the low 70s.
Surveillance has emerged as the Valley IT department's first choice for hospital‐wide problem solving. Clinicians are confident that the solution is identifying conditions, providing relevant data, and expediting ordering to initiate treatment sooner.
Quote: "Why wouldn't you want to free staff from performing repetitive tasks or surveilling patient information when the EHR can accomplish those same functions faster and more easily?"
Chris Neumann, Project Specialist at Valley Health System