Download our case study: Summit Pacific Medical Center Increases Reimbursement Clinic Volumes With MEDITECH's Analytics Solution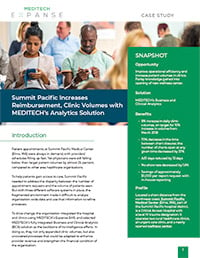 About: Located a short distance from the northwest coast, Summit Pacific Medical Center (Elma, WA) is part of the Summit Pacific hospital district. It consists of a Critical Access Hospital with a Level IV Trauma Center, two rural healthcare clinics, an urgent care clinic, and a wellness center.
Challenge: Patient appointments at Summit Pacific Medical Center were always in demand, with providers' schedules filling up fast. Yet physicians were still falling below their target patient volumes by almost 25%, compared to other area healthcare organizations. To help patients gain access to care, Summit Pacific needed to address the disparity between the number of appointment requests and the volume of patients seen.
Execution: After implementing MEDITECH across all care settings in 2017, Summit Pacific recognized an opportunity to analyze organization-wide data with MEDITECH's Business and Clinical Analytics solution. The medical center determined that the information could help to identify, and then refine, areas for performance improvement. Ultimately, leadership could draw on these results to prepare for the opening of a state-of-the-art wellness center.
Results: Summit Pacific has improved transparency among providers, executives, and staff, as they view and compare real-time information through centralized dashboards. By measuring results in real time versus waiting for quarterly reports, the medical center is able to respond more quickly with process adjustments and corrections. Since implementing BCA, Summit Pacific has experienced:
A 1.6% decrease in no-show rates.
An average increase of 1.3 patients per day per provider.
An 8% rise in daily clinic volumes.
A 70% decrease in the amount of time between chart closures; the number of charts open at any given time decreased by 37%.
An 18% reduction in A/R days by using the coder desktop to work through backlogs.
Quote: "Data is simply facts or figures, but when it's organized and presented in a way that makes it meaningful or useful, then it becomes information. BCA takes data and converts it into usable information for the end user, resulting in the ability to drive decision-making, improve processes, and enhance the patient experience."
Kayla Godfrey, CPHQ Decision Support Analyst, Summit Pacific Medical Center