Download our White Paper to see Customers' Innovation in Action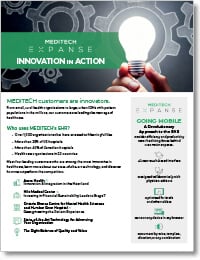 MEDITECH customers are innovators who've been recognized with the healthcare industry's most prestigious awards — the HIMSS Enterprise Davies Award, the Malcolm Baldrige National Quality Award, and hundreds of Most Wired awards.
Healthcare organizations in 22 countries rely on MEDITECH. Meet four leading customers and find out how they leverage MEDITECH's EHR to advance patient care.
Avera Health (Sioux Falls, SD) integrates care across a five-state region

Hilo Medical Center (Hilo, HI) invests in financial sustainability, leading to Stage 7

Ontario Shores Centre for Mental Health Sciences (Whitby, ON) engages behavioral health patients for improved outcomes

Humber River Hospital (Toronto, ON), North America's first fully digital hospital, reengineers the patient experience from the ground up.
Learn more about our state-of-the-art technology, and discover how MEDITECH makes the power of health IT accessible to a wider range of healthcare organizations than any other vendor.