Download our White Paper to see Customers' Innovation in Action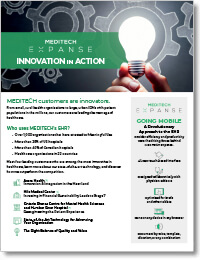 From small, rural health organizations to large, urban IDNs with patient populations in the millions, MEDITECH customers are leading the new age of healthcare. Meet four customers who are among the most innovative in healthcare and learn how they're extending their legacy of innovation with MEDITECH's EHR.
Avera Health
One of the largest care networks in the Midwest, Avera Health leverages MEDITECH's EHR across acute, ambulatory, and home care settings spanning five states. With 330 locations in 100 communities, Avera solved their geographical challenges by developing one of the most advanced telemedicine programs in the country and implementing MEDITECH's Web EHR, which is designed for mobility and efficiency.
"A key advantage is that MEDITECH's EHR is truly integrated across our system, giving all Avera patients smoother transitions, more empowering tools, and timelier changes to their care." -Avera Clinical Integration Analyst Jenni Peterson, BSN, RN
Hilo Medical Center
As the largest employer on the big island of Hawaii, Hilo Medical Center corrected its operating losses by investing in MEDITECH's EHR, which addressed the lack of integration between their clinic and hospital systems. With more efficient care delivery and revenue cycle management, the organization saw a 100 percent return on investment and a return to profitability. Following their MEDITECH implementation, Hilo experienced both financial and clinical improvements:
$14M hard ROI achieved through lower acute and ambulatory AR days

Medication error rates reduced from 16.8 to 2.7 per 10,000 doses administered

Sepsis mortality cut below 10% (national average:17%) and severe sepsis from 39% to 13%, earning them the HIMSS Enterprise Davies Award
Ontario Shores
A HIMSS Davies Award recipient and Stage 7 hospital, Ontario Shores Centre for Mental Health Sciences has proved that patient portals can be used not just to enhance engagement and satisfaction, but to improve outcomes. Following the implementation of MEDITECH's Patient and Consumer Health Portal, Ontario Shores saw the following results:
Nearly 10% decrease in missed appointments for portal users

Roughly 85% reduction in portal users' release of information requests

Administrative time savings of 10.5 to 40 hours per portal user
Humber River Hospital
After re-engineering the patient experience through automation and patient-facing technology (including MEDITECH's patient portal), Humber River Hospital was recognized as the first fully digital hospital in North America, setting the standard for healthcare organizations around the world and encouraging others to be bolder in adoption and focus on patient care/safety.
Download our full Innovation In Action Whitepaper to learn more about our state-of-the-art technology, and discover how MEDITECH makes the power of health IT accessible to a wider range of healthcare organizations than any other vendor.