Download our White Paper to Learn the Benefits of Integrated Cancer Management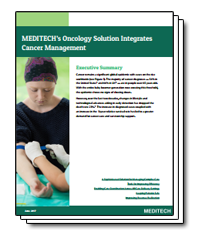 MEDITECH's Oncology solution integrates efficient, specialty-driven workflows into the EHR, enabling oncologists to coordinate patient care across all care delivery settings while also bridging gaps in care. Learn how improved efficiency, care coordination, patient safety, and revenue realization all play important roles in MEDITECH's Oncology solution managing complex cancer care.
Improving Efficiency
With cancer cases on the rise (an estimates $1.7 million cases in 2017), MEDITECH's Oncology Management solution improves the efficiency of oncology teams by embedding clinic activities into each staff member's workflow. Benefits include:
Personalized workflow based on staff role

Unlimited flowsheets tailored to diagnosis or specialty

Dynamic and flexible data summaries that consolidate key patient data from across your health system.
Enabling Care Coordination Across All Care Delivery Settings
With more patients receiving chemotherapy in outpatient settings, clinicians face the challenge of ensuring continuity as patients transition between care environments. Using MEDITECH's Oncology Management solution, clinicians provide proper care coordination and benefits such as:
Easier, more informed transitions of care

Better coordination of patient appointments and procedures through centralized scheduling

Enhanced consumer experience and engagement to support both patients and their families.
Patient Safety
Throughout treatment, a patient's physical condition often fluctuates, requiring therapies to be closely monitored for effectiveness. MEDITECH's Oncology Management solution provides clinic staff with the tools they need to safely deliver care including:
Integrated clinical flowsheets to monitor the patient's condition and ongoing treatment and progress, and to support clinical decision making

Robust clinical decision support and closed-loop chemotherapeutic medication management to prevent errors.
Improving Revenue Realization
In the United States alone, cancer-related costs may reach as high as $173 billion by 2020 if current growth rates continue. MEDITECH's integrated Revenue Cycle solution helps maximize reimbursement by gathering the right patient information upon initial contact through to final billing. Organizations can charge immediately after care is delivered, shortening the payment cycle and improving financial sustainability.
Download this White Paper to learn more about how MEDITECH's Oncology solution enables oncology staff to meet these challenges while also incorporating efficient, specialty-driven workflows into the EHR.